Prices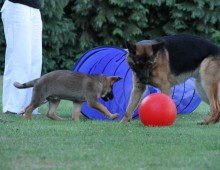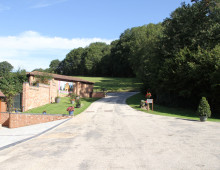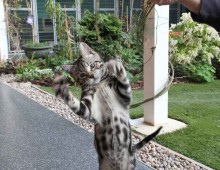 Boarding Charges
We charge for the day of arrival and departure and we operate a three day minimum charge. There are no further charges as our prices are inclusive of VAT, comprehensive 5 star veterinary insurance, food and heating.
We offer a 15% discount for two dogs sharing a standard kennel and a 25% discount for three or more dogs sharing an extra-large kennel.
We offer a 20% discount for two cats sharing a standard pen and a 25% discount for three or more cats sharing a family pen.
The veterinary insurance covers yours pets stay with us and up to 72 hours after collection to a maximum of £2000. The insurance does not cover any known conditions.
| | |
| --- | --- |
| Cats | £18.00 per day |
| Small Dog | £26.00 per day |
| Medium Dog | £28.00 per day |
| Large Dog | £30.00 per day |
| Extra Large Dog | £34.00 per day |
Use the search facility to find your dog's size
| Breed | Size |
| --- | --- |
| Affenpinscher | Small |
| Afghan | Large |
| Airedale Terrier | Large |
| Alaskan Malamute | Extra Large |
| American Cocker Spaniel | Medium |
| American Eskimo Dog | Medium |
| American Foxhound | Large |
| American Staffordshire Terrier | Medium |
| American Water Spaniel | Medium |
| Anatolian Shepard Dog | Extra Large |
| Australian Shepherd | Large |
| Australian Silky Terrier | Small |
| Australian Terrier | Small |
| Austrian Cattle Dog | Medium |
| Basenji | Medium |
| Basset | Medium |
| Beagle | Medium |
| Bearded Collie | Large |
| Bedlington Terrier | Medium |
| Belgian Sheepdog | Large |
| Bergamasco | Large |
| Bernese Mountain Dog | Extra Large |
| Bichon Frise | Small |
| Black & Tan Coonhound | Large |
| Bloodhound | Extra Large |
| Border Collie | Medium |
| Border Terrier | Small |
| Borzoi | Extra Large |
| Boston Terrier | Medium |
| Bouvier Des Flandres | Large |
| Boxer | Large |
| Bracco Italiano | Large |
| Briard | Large |
| Brittany Spaniel | Medium |
| Bull Terrier | Medium |
| Bulldog | Medium |
| Bullmastiff | Large |
| Cairn Terrier | Medium |
| Canaan Dog | Large |
| Cavalier King Charles | Small |
| Cavapoo | Medium |
| Chesapeake Bay Retriever | Large |
| Chihuahua | Small |
| Chinese Crested | Small |
| Chow Chow | Medium |
| Clumber Spaniel | Large |
| Cocker Spaniel | Medium |
| Cockerpoo | Medium |
| Corgi | Medium |
| Curly Coat Retriever | Large |
| Czesky Terrier | Medium |
| Dachshund | Medium |
| Dalmatian | Large |
| Dandy Dinmont Terrier | Medium |
| Deerhound | Extra Large |
| Dobermann | Large |
| Elkhound | Large |
| English Setter | Large |
| English Springer Spaniel | Medium |
| English Toy Terrier | Small |
| Eskimo Dog | Large |
| Estrella Mountain Dog | Extra Large |
| Field Spaniel | Medium |
| Finnish Lapphundt | Medium |
| Finnish Spitz | Medium |
| Flatcoat Retriever | Large |
| Fox Terrier | Medium |
| Foxhound | Large |
| French Bulldog | Medium |
| German Shepherd | Large |
| German Shorthair Pointer | Large |
| German Spitz-Klein | Small |
| German Spitz-Mittel | Medium |
| German Wirehair Pointer | Large |
| Giant Schnauzer | Large |
| Glen Of Imaal Terrier | Medium |
| Golden Retriever | Large |
| Gordon Setter | Large |
| Grand Bleu De Gascoigne | Large |
| Great Dane | Extra Large |
| Greyhound | Large |
| Griffon Bruxellois | Small |
| Groenendael | Large |
| Hamiltonstovare | Large |
| Harrier | Medium |
| Hovawart | Large |
| Hunganian Puli | Medium |
| Hungarian Vizsla | Large |
| Ibizan Hound | Large |
| Irish R/W Setter | Large |
| Irish Setter | Large |
| Irish Terrier | Medium |
| Irish Water Spaniel | Large |
| Irish Wolfhound | Extra Large |
| Italian Greyhound | Small |
| Italian Spinone | Large |
| Jack Russell | Small |
| Japanese Akita | Large |
| Japanese Chin | Small |
| Japanese Shiba Inu | Medium |
| Japanese Spitz | Medium |
| Keeshound | Medium |
| Kerry Blue | Medium |
| King Charles Spaniel | Small |
| Komondor | Extra Large |
| Kooiker Hondje | Medium |
| Kuvasz | Extra Large |
| Labrador | Large |
| Laekenois | Large |
| Lakeland Terrier | Medium |
| Lanashire Heeler | Small |
| Large Munsterlander | Large |
| Leonberger | Extra Large |
| Lhasa Apso | Small |
| Lowchen | Small |
| Lurcher | Large |
| Malinois | Large |
| Maltese | Small |
| Manchester Terrier | Medium |
| Maremma | Large |
| Mastiff | Extra Large |
| Miniature Bull Terrier | Small |
| Miniature Dachshund | Small |
| Miniature Pinscher | Small |
| Miniature Poodle | Medium |
| Miniature Schnauzer | Medium |
| Neapolitan Mastiff | Extra Large |
| Newfoundland | Extra Large |
| Norfolk Terrier | Small |
| Norwegian Buhend | Medium |
| Norwegian Lundehund | Medium |
| Norwich Terrier | Small |
| Old English Sheepdog | Extra Large |
| Otter Hound | Large |
| Papillon | Small |
| Parson Jack Russell | Small |
| Pekingese | Small |
| Pharaoh Hound | Large |
| Pinscher | Medium |
| Pointer | Large |
| Polish Lowland Sheepdog | Medium |
| Pomeranian | Small |
| Portuguese Water Dog | Large |
| Pug | Small |
| Pyrenean Mountain Dog | Extra Large |
| Pyrenean Sheepdog | Medium |
| Rhodesian Ridgeback | Large |
| Rottweiler | Extra Large |
| Rough Collie | Large |
| Saluki | Large |
| Samoyed | Large |
| Schipperke | Small |
| Schnauzer | Medium |
| Scottish Terrier | Medium |
| Sealyham | Medium |
| Segugio Italiano | Large |
| Shar Pei | Medium |
| Shetland Sheepdog | Medium |
| Shih Tzu | Small |
| Short Coated Wheaton Terrier | Large |
| Siberian Husky | Large |
| Skye Terrier | Medium |
| Sloughi | Large |
| Smooth Collie | Large |
| St. Bernard | Extra Large |
| Staffordshire Bull Terrier | Medium |
| Standard Poodle | Large |
| Sussex Spaniel | Medium |
| Swedish Lapphund | Medium |
| Swedish Vallhund | Medium |
| Tervueren | Large |
| Tibetan Mastiff | Extra Large |
| Tibetan Spaniel | Small |
| Tibetan Terrier | Medium |
| Toy Poodle | Small |
| Weimaraner | Large |
| Welsh Highland Terrier | Medium |
| Welsh Springer Spaniel | Medium |
| Welsh Terrier | Medium |
| Whippet | Medium |
| Wire Hair Pointed Griffon | Large |
| Yorkshire Terrier | Small |